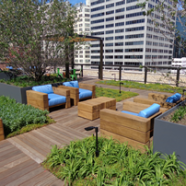 What do you do when you have high winds, hot summers and it's all on the roof?
Green space is at a premium in Downtown Chicago, and when Hillshire Brands wanted to provide a relaxing outdoor environment for their employees they looked to the roof.   Working with the team at Wolff Landscape Architecture, they designed not only an outdoor patio area, but incorporated green space and plants to bring that park-like feel to the roof.

Landtech Design was included on the project to design the irrigation system for the challenging space.  Not only was the new landscape being installed over the existing roof, but several of the planting areas had only 4" deep trays.   The harsh environmental conditions would require constant monitoring and precise watering to ensure that the plants continued to thrive, not be overwatered or allow mist to be carried off in the wind.
The client wanted to be as "green" as possible so Landtech Design selected the ESP-SMTe controller (more info) providing a weather station to monitor not only rainfall, but also temperature, historical ET and the ability to calculate the evapotranspiration data figure for each day. This allows the controller to adjust watering schedules to deliver the precise amount of water needed to maintain the optimum soil moisture and plant requirements.   Additionally, with the greenroof planting trays a depth of only 4", the plants are watered using micro-spray nozzles on 6"-7" Poly-Flex risers.   Designing the piping layout had its own challenges as the only way to get from planter to planter was by using the cavity beneath the pedestal pavers allowing for only 1.5" of clearance for the irrigation lines.   Irritrol 2400 valves provided the necessary low-profile and low-flow capability as necessitated by the design. (more info)
This project was installed by the crew of Andrew McCann Sprinkler Company.  This company has been in the Chicago area since 1917, and has a strong reputation for providing quality work, service and experience in the City of Chicago and neighboring areas. (read about McCann Sprinkler)
Partnering with a great team of landscape architects (Wolff LA), irrigation consultants (Landtech Design) and a quality irrigation contractor (Andrew McCann) has guaranteed a happy, satisfied customer.  "I've been to that office a couple times.  It is just east of our place near Union Station. The rooftop garden is beautiful!" Kate Byers

For your next irrigation project, consider hiring Landtech Design as your irrigation consultant.  We have become known as "the landscape architect's irrigation consultant", bringing the latest technology to each and every project.  Designing a system that meets the needs of your customers, providing water conservation and savings, along with a quality set of documents for construction is our primary goal.