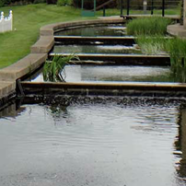 Creating beautiful waterways
The Otterbine name is synonymous with quality and performance and we wanted to take the time today to share with you the words of their CEO, Charlie Barebo as we feel their words are very similar to those of Landtech Design and the Kenney Corporation.   It is by partnering with these folks that we can offer the services and designs to our customers in a WIN/WIN fashion.
Words to share from Otterbine
Dear Colleagues,
2016 was a year of solid accomplishment and growth for Otterbine. In the last three years, we have grown revenues a solid 36% in total. We simply get fantastic support from all our stakeholders – our consultants, vendors, distributors, and the fine people we get to work with every day, our employees. Together, our founders called us the Folks at Otterbine. A little bit more about that. There is more to a business than just making money. Chuck and Terry Barebo made that clear right up front when they bought the business in 1980. How we treat people is a big part of our culture and one of the reasons WHY we are in business. Chuck Barebo, on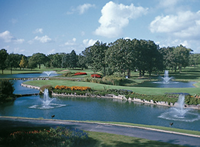 e of our two founders, says it best, "We wanted to create a fun, fulfilling environment that enriched our employees' lives and treated them like partners. We shared critical operating information with them, we put an annual review and performance bonus in place, we share our profits with them, and we put a health insurance plan in place that included the entire family. Frankly it surprises me whenever anyone leaves us, be it a customer, distributor or employee." In 2016 our average length of employee tenure was 14 years. We celebrated 5, 10, 15 and 35-year employment anniversaries at our annual supper on Feb. 3rd. Herb Kelleher, legendary CEO of Southwest Airlines likes to say, "If you take good care of your employees, they'll take good care of your customers." We are going to treat people – customers, distributors, vendors, and employees like people; valuable, creative, inspiring and loyal. This value was re-enforced at a strategic planning meeting about seven years ago when the second generation led team decided that the best way for us to compete is to be the easiest aerator and floating fountain company to work with. That covers a lot of territory and gives each one of us something to work on every day. This is part of valuing people, one of the reasons WHY we are in business, the core of our culture and value system.  Read more….
New products for 2017
The Air Flo 3 diffused aeration system compliments Otterbine's line of aeration systems with a sub-surface option to water quality management.  Engineered to offer increased energy efficiency and quieter operation, this "bubbler" type system system is available with 1-disc or 2-disc manifold assemblies.  Key features include:
Lake Management:
The Air Flo 3 system is extremely effective in all ponds with a depth of at least 6ft (2m), and all the way up to of 40+ feet (12m) depths. It breaks down thermal stratification and stimulates bottom aquatic life which feeds on algae and organic nutrients. The Air Flo 3 system is ideal for managing water quality of effluent ponds and lakes without releasing harmful particulates into the air, and is excellent in breaking up thermal stratification in ponds and lakes.
Invisible:
No parts of the system or a spray pattern are visible from the lake's surface. Those concerned with evaporation favor the Air Flo 3 system since no water is released into the air.
Safety:
No electricity or moving parts are near the water; this makes the system entirely safe for swimming, boating, and fishing. Package electrically safety tested and listed with ETL, ETL-C. Products for European Union are also safety tested, approved and carry a 3rd party independent CE mark.
Authorized Distributor
To learn more or to request details for your next design project you can check them out at Kenney Outdoor Solutions  or send us an email today and we will get back with you to answer any questions you may have.