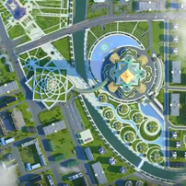 From Around the World…
Landtech Design Consultants…from around the world to your  neighborhood.  Many contractors know the benefits of the partnership with Landtech Design for their residential and commercial projects.  YES, we are proud of the many designs that we produce to support all of our contractors, however that is only the tip of the iceberg.  Our team has been hard at work on several exciting new projects from around the world and we thought we should share with you some of those projects in the coming months.
First up….Akhmat Tower
Akhmat Tower is a supertall skyscraper proposed in Grozny, Russia.
The tower is planned to have a height of 400 meters, and consist of 80 floors. The tower is heavily influenced by Nakh architecture – it is modeled after the military towers. The tower will incorporate offices, apartments, parking, a museum, and public space.
Working with Architects Adrian Smith+Gordon Gill based in Chicago, Landtech Design has developed the irrigation design plans for this exciting new project proposed in the heart of Grozny, Russia.   Another recently completed project with them was the Kingdom Tower(Jeddah) project, which is slated to become the world's tallest building in Dubai.
Team Approach to Design
Landtech Design has developed a team approach in order to incorporate the strengths of their irrigation design knowledge in partnership with some of the best architectural and engineering firms from around the world.   By leveraging their knowledge they can produce the needed designs and plans to overlay and compliment the landscape design.   Understanding the hydraulics and water calculations needed to deliver water to plants efficiently, and with the latest technology in irrigation products, means that many projects are LEED Certified or awarded honors for water conservation.
Continue to watch as we share other exciting projects that we have recently completed.
Learn how to leverage your Team
Want to learn more or bring our team in to discuss how we can complement your next design project?  Simply contact us at Landtechdesign.com and we will share with you how our team can become a part of your team.